Course details
The day OK !! All 14 items with Zabuto 【4000 yen course】 ※ Rice Instant free and soft drinks All you can drink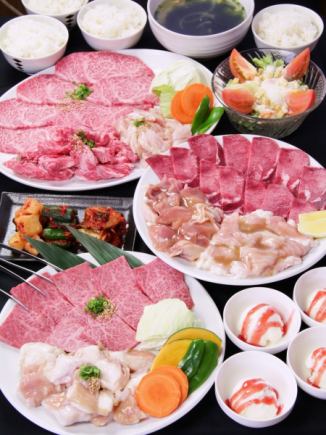 By using a coupon4000 yen
90 minutes at + 1500 yen (tax included) alcohol [drinking]
All-you-can-drink available

Draft beer, highball, non-alcoholic cocktail ... All kinds of drinks are enriched! All you can drink alcohol at + 1500 yen (tax included) !!
Available days for reservation

Monday - Sunday - Public holidays - Holidays
To you that quantity and quality!! 【Zabuton】 【Top Calvi】 including our popular menu ☆ Upper Tan, Salt Mino, Specialty Hormone, Harami, Japanese Salad, Kimchi Assortment, Course Dessert etc. Fine meat It is a surprising 14 items that you can enjoy and enjoy the amount.All-you-can-eat all-you-can-eat & soft drinks with all you can! With + 1500 yen (tax included) for 90 minutes Alcohol drink
Course menu
※ The content may vary depending on the purchase situation.
◆ 3 kinds of kimchi served
◆ Japanese style salad
◆ salt tongue
◆ Salt and Pork Roses
Salt Mino
◆ Wiener
◆ Zabuton
◆ Specialty Hormones
◆ Upper Calvi
◆ Falling Calvi
◆ Young chicken thigh
◆ Today's soup
◆ Today's dessert
All 14 items + all-you-can-eat + soft drinks with all you can drink
All-you-can-drink menu
· Draft beer ★
· Sapporo black label
· ★ Bottled Beer ★
· Kirin's best squeezing · Asahi Super Dry
· ★ non alcoholic beer ★
· Sapporo Premium Alcohol Free
· Shochu ★
· Black Kirishima (potato) · Nikaido (wheat) · Shiratake (rice) ※ You can choose rock · water · hot water split!
Japanese sake ★
· Thousands of cranes · Yaga · Seishi ※ You can choose cold sake · hot soup!
· ★ High Ball ★
· High Bow · Cola · Ginger · Blue Apple · Lime · Sequiner · Giant Peak · Grapefruit · Cassis · Pomegranate · Man plum
· ★ Fruit wine ★
· Plum wine · mango · peach · cassis
· ★ Shochu high ★
· Coke · Lemon · Lime · Giant Peak · Oolong · Man Mei · Calpis · Blue Apples · Sequiner · Pomegranate
· ★ Cocktail ★
· Fuzzy Negble · Regga Punch · Peach Ginger · Mango Calpis · Cassis Orange · Gin Tonic · Kitty · Shandigafu and all 24 kinds
· ★ Glass wine ★
· From Spain> Garcia Calion (red · white)
· ★ non alcoholic cocktail ★
· Shirley Temple · Saratoga · Cooler · Pomegranate Oolong · Pomegranate Grapefruit · T · Russian Heart · Non-Al plum wine (Rock · Soda Discount) · Non-Ali Sunrise
· ★ soft drink ★
· Oolong tea · Ginger ale · Grapefruit (100%) · Corn whisker · White water · Melon soda · Pepsi cola · Orange (100%)
Coupons that can be used with this course
2018/10/26 update